So, remember the ingredients used to make Quick-Fix Southwestern Fish Tacos? 
Well, guess what.  Those same ingredients are reusable for your bring-to-work lunches.  You're welcome.
Rant Time
You may have picked up on the fact that I hate bottled dressing (as evidenced here, here and here).  It's the foodstuffs of the Devil, as far as I'm concerned.  If I go into a restaurant and they give me dressing from a bottle, I review them poorly and refuse to return, ever. 
Seriously.  I'm not paying $12 for lettuce out of a bag and dressing out of a bottle.  I don't care how healthy it is.  I can get that in my own kitchen for $5.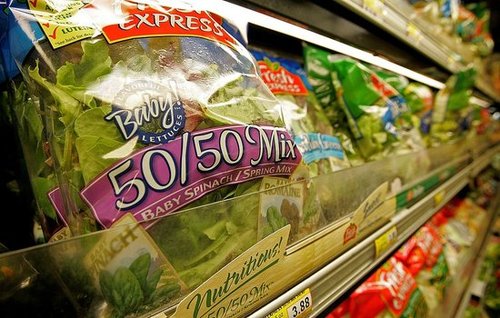 (Source.)
Sounds extreme, I know, but bottled dressing is a cesspool of unhealthy ingredients, sugar, preservatives and all sorts of artificial seasoning.  It's laden with calories and trans fats.  And, to top it off, it ALWAYS (always) tastes like there's a heaping spoonful of dust in it.  I can MAYBE deal with the processed part on occasion, but the taste of dust on my salad drives. me. INSANE.
AND – MOST IMPORTANTLY – it takes all of FIVE seconds to make your own dressing from home!  It BAFFLES me that I can make enough homemade dressing to last a week but restaurants with infinitely more resources and staff can't whisk together vinegar, oil and dried herbs.
Seriously.  Get yourself an Italian herb blend, your favorite vinegar or some lemons and a bottle of olive oil.  Dressing galore.
So the purpose of this post is to share with you a few homemade dressing recipes.  Do yourself a favor and stop buying bottled dressing.  It's unhealthy and absolutely repulsive.
Recipe #1: Cilantro-Lime Vinaigrette
As I said before, this recipe can be made using the ingredients from the Southwestern Fish Tacos.  You can make the tacos and prepare the dressing while you already have the ingredients out and chopped.  It's win-win.  Maybe you can serve your taco alongside a salad with this dressing, or perhaps drizzle some of the dressing on the fish.  It makes a delicious marinade, too, if I do say so myself.
Ingredients:
1 tbsp olive oil or canola oil
Juice of 2 limes or 1 lemon
Large pinches of cumin, chili powder and cayenne
1/2 serrano pepper, finely minced
1 scallion, finely minced
1 garlic clove, finely minced
1 heaping tbsp chopped cilantro
Salt and pepper
The best part?  If your pantry is running low on ingredients, you can omit the serrano, onion and garlic.  Simply substitute with a little extra cayenne and onion powder and it will be very similar.  However, I would not recommend omitting the fresh citrus and fresh cilantro.
Prep the serrano, scallion, garlic and cilantro.  Toss it all into a tupperware container with some salt and pepper.
Add lemon juice, olive oil and seasonings.  Replace lid of tupperware container.
Shake the hell of out of it.
You can stop when it's all blended together.  This takes all of a super inconvenient 15 seconds, max.
Pour atop vegetables (I used red leaf lettuce, cucumbers and shaved carrots) and toss.  If your tupperware container is big enough, throw the vegetables in there and shake it all together. 
I brought the leftover dressing to work for the week and made the same salad, except this time I crumbled spicy blue corn tortilla chips over it and ate an open-faced Boars Head Cajon turkey sandwich on the side…and some cheese toast for good measure.  It was delightful.
This dressing takes about 10 minutes to make.  A salad in less than 10 minutes.  Me likey.
  If that's too much prep work for you, try one of the ones listed below.
(For each of the following dressings, you can either whisk the ingredients or shake them together.  My favorite dressing vessels include mason jars, those really tiny Glad tupperware containers, and squirt bottles.  Throw the ingredients in any of these, shake em up, and you will have salad dressing for a few days.  Oh and also – all the measurements are approximate.  Use your best judgment.)
Dressing #2: Balsamic Vinaigrette
I'm not a huge fan, but everyone and their dog swears by it, so I should share.  Simply whisk or shake together the following:
1/2 to 1 tbsp extra virgin olive oil (or flax oil or canola oil…whatever your favorite non-trans fat oil is)
2 tbsp balsamic
A pinch of dried rosemary (or whatever your favorite dried herbs are)
Salt and pepper
Voila.  That took all of 30 seconds.
Dressing #3: Red Wine Vinaigrette
My go-to.  Whisk or shake together:
1/2 to 1 tbsp extra virgin olive oil (I'd recommend the olive oil for this one because the flavor is nice)
2 tbsp red wine vinegar
1/2 tbsp whole grain dijon mustard (honey mustard works too, but do yourself a favor and go with a nice mustard on this one, like Grey Poupon)
Pinch of Italian herb blend
Salt and pepper
OMG that took so much longer.  Like, a whole minute.
Dressing #4: French White Wine Vinaigrette
Ingredients:
1 tbsp extra virgin olive oil
1 tbsp white wine or champagne vinegar
Juice of 1 lemon
1/2 tbsp dijon mustard
Large pinch of chopped fresh thyme OR chopped fresh tarragon
OH MY GOD FIVE WHOLE MINUTES TO MAKE THIS HOW WILL I EVER FIND THE TIME??!?!?!???! jikjf*&(*&(*&*fjdkljfu*(fuoijf(*u_
(Fresh herbs are better for this one, but if you sub with dried herbs it will take all of 1 minute.)
Seriously, people.  It's so easy.  Try it and you'll really never go back to bottled dressing.
16th May 2011 at 10:49 am