The last post was a titillating whirlwind of exhilaration, decadence and indulgence.
With this post, my friends, I bring you (and by you I mean both of us) back to the real world.  It's a cold, cruel place where, unless your name is Carrie Bradshaw, you cannot live every day as if you're a celebrity.  Still working on those Manolos, though.
(No one better steal these from ME at a baby shower!!  I'm SCRAPPY!!! Source.)
What I'm trying to say in my roundabout, neurotically rambling way is that as spectacular as Craigie was, I cannot eat $100 dinners seven days a week.  (If you can, and you're in your mid-twenties and you don't work in anything math or science related, then, well…I want your life.)  However, just because I can't enjoy an extravagant meal every evening doesn't mean I can't find ways to satisfy my thirst for elegant cuisine or specially-crafted cocktails. In fact, balancing my frugality with my – albeit very expensive – hobby (and the expensive gym I joined to counteract the effects of said hobby) has become somewhat of an art.  But this balancing act allows me to have it all: means to keep Sallie Mae from smashing my knee caps with a wooden bat, delicious food, tasty drinks and frequent nights out in a fabulous city.
(Source.)
And you know what?  You can have it all too. 
Tip 1: Daily Deal Coupons
I am maniacally fiendish when it comes to these things.  It's shameful.  I am signed up for every daily deal site imaginable: Groupon, LivingSocial, BuyWithMe, BloomSpot, Ideeli, etc.  I swear, 50% of the deals that populate my inbox are restaurant-related.  This is one of the best ways to save money.  Just monitor the daily deals every day and buy when something intriguing pops up.  I have actually made restaurant plans based on available coupons for a certain day.  People, it's practically free money.  In fact, it kind of IS free money.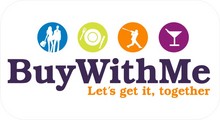 Leverage the deal even more by making plans with a friend when the deal comes out.  Think about it – you both buy a "$25 for $50 worth of food" coupon and go to the restaurant.  That's a $100 meal.  You will both eat like royalty on a peasant's budget.
The best part?  You can combine this tip with any of the following for maximum save-age.
Tip 2: Be Aware of Special Events / Offers
Saving money isn't an easy task. 
It requires a significant amount of research on your part.  But then again, if you love food, doing the research is probably something you do anyway for fun.  (Does anyone else start sifting through a menu more than a week before eating somewhere so you can decide exactly what you're going to order?  Beuller?  Beuller?  Ok then.)
If you have a specific list of restaurants that you're dying to try in mind, check their websites.  Restaurants, especially those with a higher price tag, typically host sporadic events that feature their cuisine for more affordable prices.  For example, Craigie's tasting menu costs anywhere between $95 and $115.  However, they offer their Chef's Whim on Sunday nights after 9:30pm – it's a great way for them to reach a different clientele and to get new diners into the restaurant.  We had four courses for a total of $40 and left very full and very, very happy.  And it worked because now we're contemplating going whole hog and ordering the 10-course tasting menu.
You can also check local papers or websites.  BostonChefs.com is a Boston website that provides a calendar listing of all restaurant events and special deals going on each month.  If your city doesn't have something like that, pick up local entertainment publications or read the entertainment section of the newspaper. 
On a similar vein, most major metropolitan areas have a Restaurant Week nowadays.  See when your city is hosting this magnificent event by typing restaurant week + your city into The Google.  Restaurant Week has a bad rap for being hit or miss or offering lower quality food than usual, but if a restaurant is smart the experience will be wonderful (this is how they attract new customers).
It's possible I look more forward to Restaurant Week in Boston than I do Christmas…especially after last year's cookie extravaganza / disaster.
(This is still one of my favorite images ever.  EVER.  Source.)
Tip 3: Order Appetizers
There is no rule that every meal has to have an appetizer, entree and dessert.  There isn't this evil Restaurant Lord who will smite you if you decide to forego the $20 dry cake not even produced by your favorite chef in the first place.  That cake was made by that little tart who calls herself a pastry chef, for God's sake, and you'll be DAMNED if you go broke over that cake!! 
Who am I kidding.  NEVER forego the cake.  At least go to the pastry shop down the road and get yourself a lemon bar.  Or apple tart.  Or double chocolate cookie.
(Source.)
Anyway, if you are dying to go to a restaurant so you can try that chef's cuisine, nix the entree.  This is a great way to sample multiple dishes that utilize a variety of cooking techniques and still walk out without having eaten yourself out of house and home.  Combine with item #1 (coupons!!!) for maximum savings.
Go to the restaurant of your choice with a few friends, order drinks (or a cheap yet delicious bottle of wine) and a few appetizers to split amongst yourselves.  If you're nervous about leaving hungry, pick your favorite friend with the best taste buds and split an entree with her in addition to the apps.  This is a really fun way to sample a chef's food while having a great evening out with your friends.
Lunch
Not all restaurants are open for lunch, but if there's one you want to try that offers a lunch menu, compare prices to their dinner menu.  Typically, portions during lunch time are smaller and so the price is adjusted accordingly.
If this option sounds crappy to you because you don't want to be rushed through a meal during your lunch hour, just to return to your desk/cube/office and continue plugging away for 5 more hours, then plan to go on a Saturday.  Make a day of it!  Go shopping and get manis/pedis with a girlfriend, or go to a museum with your significant other and enjoy a glass of wine and lunch on the patio…
…then you can go out again later for dinner!
Question: What are your favorite tips for eating like a foodie on a 20-something's budget?
31st March 2011 at 4:58 pm